The Tokyo Commodity Exchange (TOCOM) announced summary of April 2016 Activities and also celebrates the first anniversary of Gold Rolling Spot Contract which was launched on May 7, 2015.
Takamichi Hamada, President & CEO at TOCOM, commented, "the Gold Rolling Spot contract has quickly become one of the most actively traded contracts at TOCOM. Through April 2016, average daily volume increased by 37 percent to over 16,000 contracts. April open interest was over 85,000 contracts, close to double the 43,610 contracts at the end of May 2015. TOCOM Gold Rolling Spot has its largest block of volume collected in Asia, where a number of new gold markets have been launched by regional and international exchanges.
The Exchange considers the recent success of Gold Rolling Spot to be attributed to a high-quality product that is meeting the needs of a specific class of investor. In addition there has been a good deal of understanding and support provided by the futures commission merchants."
Overview of April trading activities
The total trading volume for April was 2,341,264 contracts, with the average daily volume of 117,063 contracts, up by 3.6% from the previous month. Average daily volume of Dubai Crude Oil was increased by 18.1% MoM to 27,582 contracts, Rubber rose by 6.3% to 11,462 contracts and Corn was up by 117.7% to 1,842 contracts. These gains outpaced a drop in volume for TOCOM's most active contract, Gold Standard, which was down 9.1% to 35,622 contracts.
Monthly night session volume was 857,652 contracts which accounted for 36.6% of the total volume. Overseas customer trade volume combined sell & buy orders for March 2016 was 2,523,337 contracts, accounting for 50.7% of the total trades.
TOCOM explained that Dubai Crude Oil prices fell briefly in April after OPEC deferred a production freeze. Prices bounced back and volume rose on expectations for global demand growth. Corn volume increased at TOCOM after price rising in Chicago due to too little precipitation in Brazil and too much in the U.S. Midwest potentially reducing production. TOCOM Gold market was subdued on the wait-and-see approach facing the FRB at the end of the month.
Open interest for all products at the end of April was 377,229 contracts, decreased by 7,136 (1.9%) from the end of March.
Trading Volume Breakdown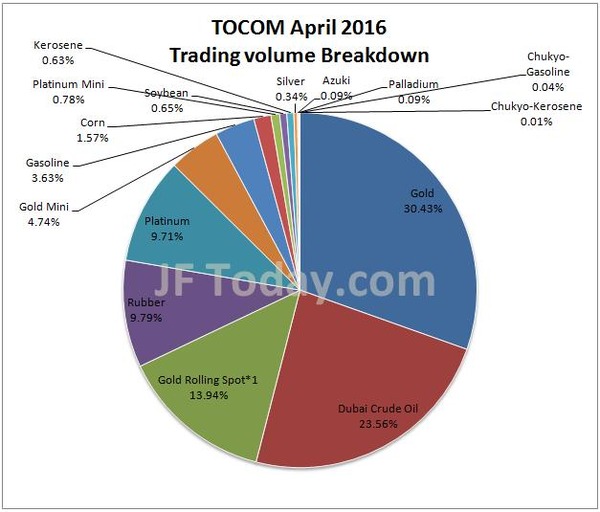 (Source: Tokyo Commodity Exchange (TOCOM) )
Related Articles: