The Commodity Futures Association of Japan ( CFAJ ) disclosed the monthly OTC CFD trading overview for September, 2016. The data is based on reports from member companies of the association.
The total number of contract was 17,227,855 which consisted of 8,505,494 of energy, 7,704,289 of Precious metals and 1,018,072 of Agricultural products. The total trading value was 340,926 million JPY, increased by 11.3% from the previous month, but saw a big decrease of 34% comparing to the same month last year.
The agricultural products showed a significant growth as it increased by 44.8% from the previous month, while the product accounted for 3.9% among the total trading value. Following the product, the most traded product, Energy had the second biggest MoM growth of 24.5% during the month. Only Precious metal dropped its trading value by 24.7%.
The total number of funded accounts was 5,706, increased by 2.4% from the previous month. The total customer margin balance at the end of the month slightly grew to 4,954 million JPY by 3% MoM. The open interests both sell and buy at the end of the month totaled 19,158 million JPY, decreased by 4.45% from 20,016 million of the previous month.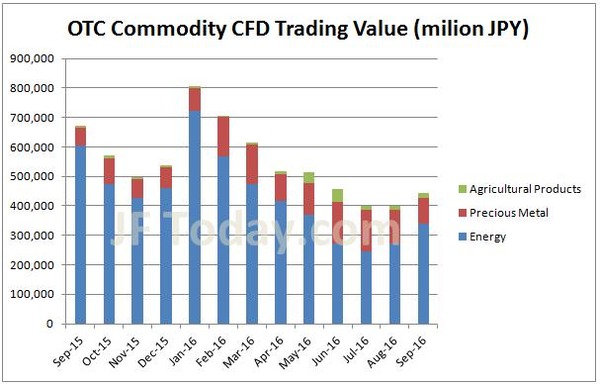 (Source: The Commodity Futures Association of Japan )
Related Articles: