The Financial Futures Association of Japan (FFAJ) published monthly OTC Forex trading volume in June, 2016. According to the data reported by 52 OTC Forex margin trading operators, the total OTC forex trading volume was 429 trillion JPY, increased by 17% from the previous month but decreased by 19% from last year. Yen appreciation trend from May second half was further accelerated by the volatile currency market in response to the Brexit.
On the other hand, on-exchange trading volume (Tokyo Financial Exchange) for the month was 4.75 trillion JPY, surged by 50.7% month-over-month.
The open position at the end of the month totaled 3.96 trillion JPY (both of sell positions and buy positions), decreased by 1.6 trillion yen. FFAJ explained that it seems that reduction of open positions was deeply affected by the position adjustment prior to the UK referendum, and in addition the loss-cut actions occurred before and after the result of the referendum.
The total amount of customers margin deposited at the OTC Forex operators, which is required amount for separate management, was 0.97 trillion JPY, declined by 8.5% from May.
Due to the impact of the result of the referendum, currency pairs of GBP and EUR saw notable growth for their trading volume, as GBP/USD, GBP/JPY, and EUR/JPY rose by 143%, 128% and 75% respectively in June. The most traded currency pair, USD/JPY increased by only 1.16% from the previous month and its share among top 10 most traded currency pairs decreased to 61.9% from 71.8% in May.
OTC FX Trading Volume in June (billion JPY)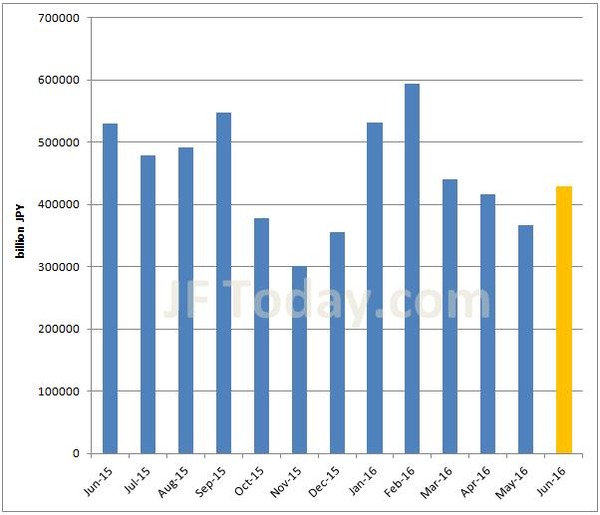 TOP10 Most Traded Currency Pairs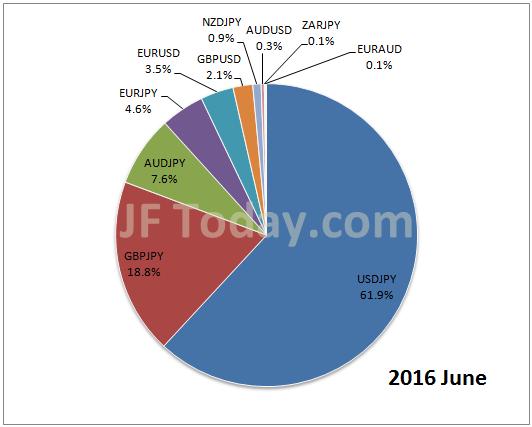 (Source: The Financial Futures Association of Japan )
Related Articles: