The Financial Futures Association of Japan (FFAJ) published monthly OTC Forex trading volume in March, 2016. The total trading volume reported by 53 OTC Forex margin trading operators was 439.8 trillion JPY with a decrease of 26% from the previous month and -11.7% from the same month last year. In both January and February, total trading volume exceeded 500 trillion level but the uptrend couldn't continue. FFAJ explained that Despite the trend of stronger Japanese yen was continued, as a whole, market volatility was lower, and exchange rate has settled down as compared to the previous month.
Tokyo Financial Exchange ( TFX ) also reported the drop of on-exchange Forex trading volume in March. It declined to 3.728 trillion JPY from 4.855 trillion JPY in February (-23.21% MoM).
The total open positions at the end of March were 5,733 billion JPY consisting of 1,944 billion of short positions and 3,788 billion JPY of long positions. The total amount of customers margin deposited at the OTC Forex operators was 1.102 trillion JPY while the number was 1.052 trillion JPY in February.
Regarding the most traded 10 currency pairs, trading volume of USD/JPY decreased by 31.35% from February to 297.7 trillion JPY, accounting for 68.12% of the 10 pairs. AUD/USD saw the biggest MoM increase with 43.05%, reaching 2.538 trillion JPY.
OTC FX trading volume in March (billion JPY)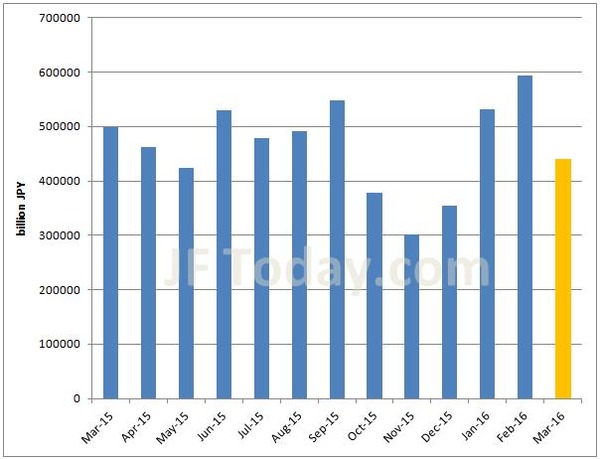 TOP 10 most traded currency pairs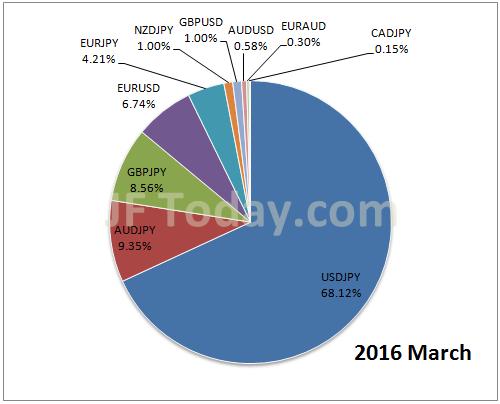 (Source: The Financial Futures Association of Japan )
Related Articles: