The Financial Futures Association of Japan (FFAJ) published monthly OTC Forex trading volume in May, 2016. The total trading volume reported by 52 OTC Forex margin trading operators was 366 trillion JPY, decreased by 12.1% from the previous month and -13.7% from the same month last year. The trading volume of this month was lower than the 400 trillion yen for the first time in five months. On the other hand, on-exchange trading volume (Tokyo Financial Exchange) for the month was 3.14 trillion JPY, slightly declined by 1% month-over-month.
Open positions (both of sell positions and buy positions) was increased by 11.08% to 5675.1 billion JPY.
The total amount of customers margin deposited at the OTC Forex operators, which is required amount for separate management, was 1.06 trillion JPY, increased by 4.7% from April.
Among the top most traded currency pairs, most of them saw MoM decreases. Specifically, USD/JPY decreased to 294.4 trilllion JPY with the decrease of 11.3%. The biggest drop among the 10 pairs was seen at EUR/USD which decreased by 23.56% from April.
As Brexit referendum vote will take place in the United Kingdom on Thursday, June 23, 2016, we see many Japanese brokers such as GMO Click Securities and DMM.com Securities alert their customers to control their margin balance and positions against rapid market movements and slippages.
OTC FX Trading Volume in May (billion JPY)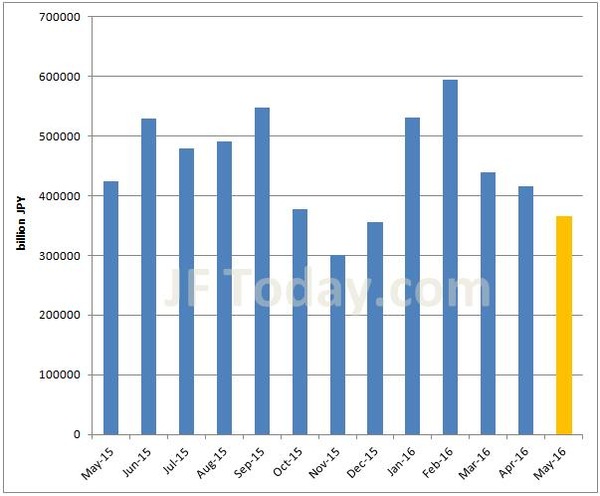 TOP10 Most Traded Currency Pairs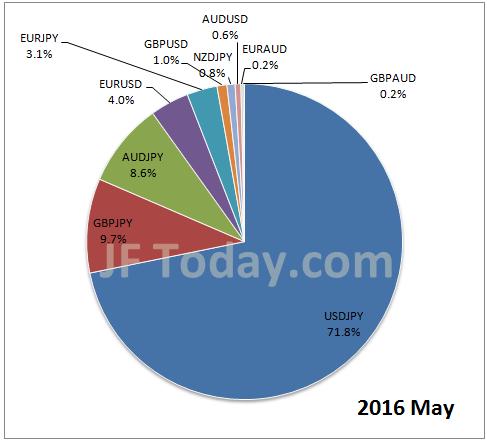 (Source: The Financial Futures Association of Japan )
Related Articles: