The Financial Futures Association of Japan (FFAJ) published monthly OTC Forex trading volume in April, 2016. The total trading volume reported by 52 OTC Forex margin trading operators was 416.4 trillion JPY, decreased by 5.33% from the previous month and -10% from the same month last year, while on-exchange trading volume for the month was 3.172 trillion JPY with a decrease of 14.89% MoM.
Open positions tended to decrease during this month, and furthermore the yen short positions remained almost same level as the previous month. Thus the total open positions at the end of April were 5108 billion JPY consisting of 1,332 billion of short positions and 3,777 billion JPY of long positions. The total amount of customers margin deposited at the OTC Forex operators was 1.019 trillion JPY, decreased by 7.53% from March.
Looking at top 10 most traded currency pairs, all pairs experienced decrease from the previous month. The biggest decrease was seen at EUR/USD with -35.6%. The most traded pairs, USD/JPY slightly decreased by 1.13% to 294.3 trillion JPY, however its share of top 10 most traded pairs increased to 71.7% while it accounted for 68.12% in March.
OTC FX Trading Volume in April (billion JPY)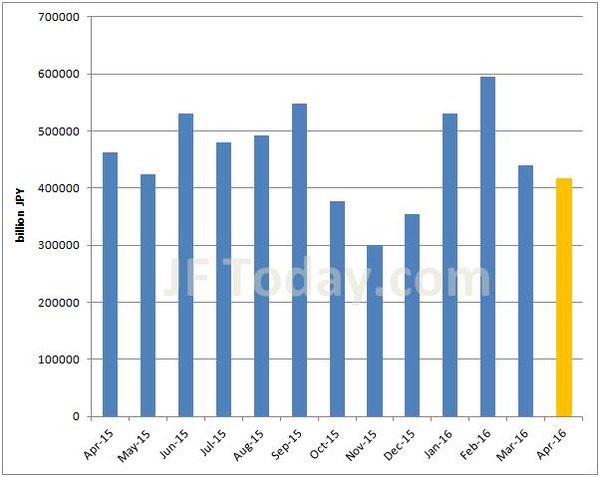 TOP10 Most Traded Currency Pairs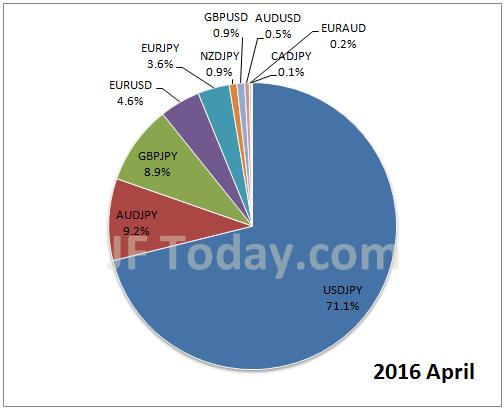 (Source: The Financial Futures Association of Japan )
Related Articles: