The Financial Futures Association of Japan ( FFAJ ) published monthly OTC Forex trading volume for the first month of 2016. During January, the trading volume was 532 trillion JPY, surged by 49.9% from the previous month, and decreased by 19.5% from the same month last year. FFAJ explained that this growth was due to volatility of each currency pair including dollar Japanese yen having risen. The monthly trading volume was back to 500 trillion level again.
For reference, on-exchange forex trading at Tokyo Financial Exchange was 4757.3 billion JPY (The FFAJ converts the total number of contracts into the trading volume on the settlement prices of the end of the month) for the month, with an increase of 22.4 MoM.
The total open positions at the end of January were 6185 billion JPY consisting of 2103 billion of short positions and 4081 billion JPY of long positions. As the trend of repurchasing Japanese yen short positions overcame a new purchase of foreign currency-denominated long positions, the total open positions decreased by 11.8% from the previous month. The long open positions was decreased by 1283 billion JPY while short positions increased by 452 billion JPY from December.
Looking at the most traded 10 currency pairs, USDJPY accounted for 67.1 % while it accounted for 61.52% last month. The biggest growth was seen at AUDJPY. AUDJPY increased by 56.9% from the previous month followed by GBPJPY with an increase of 54.8%.
OTC FX trading volume in January (billion JPY)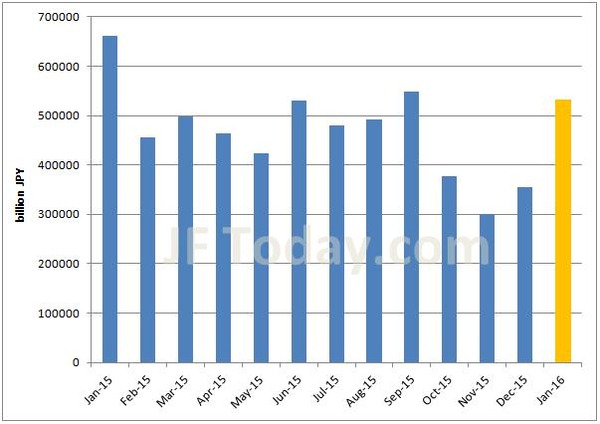 TOP 10 most traded currency pairs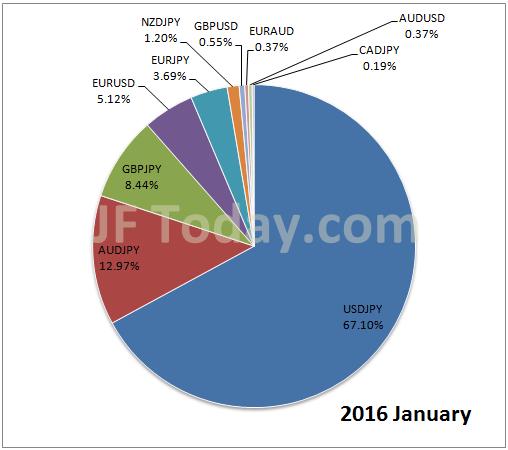 (Source: The Financial Futures Association of Japan )
Related Articles: