The Financial Futures Association of Japan published monthly retail OTC binary Options report for October. The total trading volume was 44.58 billion JPY, decreased by 2.9% month-over-month, and 22.1% year-over year. The figure is still well below the yearly-averaged trading volume to date of 48.83 billion JPY.
The data was based on 8 binary option trading members reporting. In October, the existing accounts as of the end of the month was 331,244 and 13,527 accounts was active, while the existing accounts totaled 328,743 and the number of active accounts was 13,527 in September.
Among the major currency pairs, USD/JPY was the most traded pairs with the trading volume of 25.6 billion JPY, increased by 13.85% from September. The second most traded pair was GBP/JPY, reaching to 6.1 billion JPY however when comparing with the previous month, it had a significant drop of -44.62%.
FFAJ OTC Binary Option Trading Volume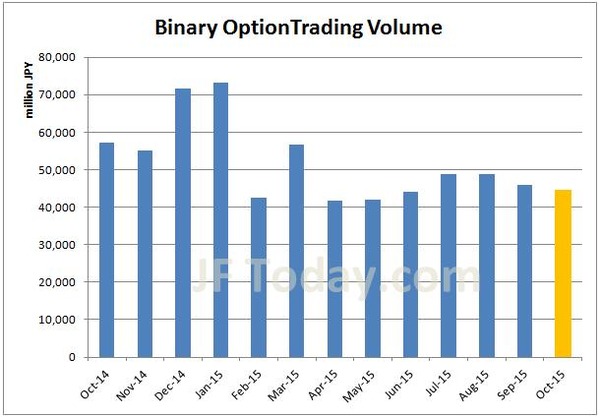 Trading Volume share by currency pair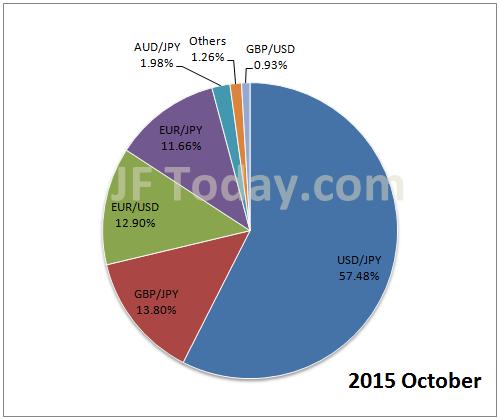 Profit and Loss about Customer Transaction by broker
October-15
September-15
Broker
Financial Instrument
Profit & Loss Ratio(*1):%
Loss Customers Ratio(*2):%
Profit & Loss Ratio(*1):%
Loss Customers Ratio(*2):%
GMO Click Securities
BO
98.5
74.1
96.1
79.5
Traders Securities
BO
90.1
75.8
90.5
77.5
IG Securities
Total
97
75.1
95.3
76.2
BO
96.7
76.2
95.5
75.9
Touch BO
104.2
60.6
84.2
77.5
FX PRIME by GMO
BO
100.9
67.4
92.6
77.6
JFX
BO
110.4
40.0
90.6
80.8
YJFX
Total
98.7
78.2
95.3
80.2
BO
99.1
77.6
95.3
80.9
Range BO
92.7
72.8
92.7
64.3
Hirose FX
BO
93.3
73.1
91.1
82.2
FX Trade Financial
Total
94.8
78.5
95.1
81.2
BO
94.8
76.5
95.2
81.2
Range BO
100.5
65.9
90.8
66.3
Touch BO
89.8
70.5
86.1
64.2
*1: the percentage of profit-loss about customer transactions= (The amount of the option premium paid by binary options brokers toward customers + the payout amount) / (the amount of the option premium received from customers)x100(%)
*2: the percentage of customers who hold the loss of binary options= (the number of customers whose total amount of profit-and loss about binary options comes to be minus) / (the number of customers trading during the period) x 100(%)
(Source: The Financial Futures Association of Japan (FFAJ))
Related Articles: