Japanese Forex broker, Gaitame Online announced that the broker has obtained the registration of Type II Financial Instruments Business and applied for an operator of on-exchange forex margin contract, "click365", provided by Tokyo Financial Exchange (TFX) on July 15.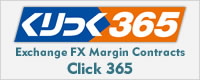 Gaitame Online has been preparing to become an exchange forex margin trading member, aiming to launch click365 trading from this fall. The broker will notify further update on its website.
According to Gaitame Online's website, the number of its total opened accounts was 404,102 at the end of FY2014, and yearly trading volume of OTC FX reached 249,505 billion JPY.
Gaitame Online intends to diversify its products to enhance convenience for customers.
In early July, we reported monthly trading volume of click365 which saw substantial growth of 32% from the previous month.
(Source:
Gaitame Online
)