Japan Securities Dealers Association published usage of NISA (Nippon (Japan) Individual Savings Account), a new type of tax exemption program for small investments launched in January, 2014. The statistics is based on data provided by 10 leading companies consisting of 5 securities companies and 5 online securities companies.
As of February 29, 2016, the total number of existing NISA account is 4,810,039, increased by 0.9% (40,825 accounts) from the previous month while the active accounts totaled 2,754,973, which accounted for 57.3% of the total existing accounts.
The cumulative total trading volume at NISA was 3,687 billion JPY, increased by 6.4% from 3,466 billion JPY in January. This means trading volume in February was 220 billion JPY.
As leading securities companies such as SBI Securities and GMO CLICK Securities have already announced, Junior NISA will be officially launch this coming April.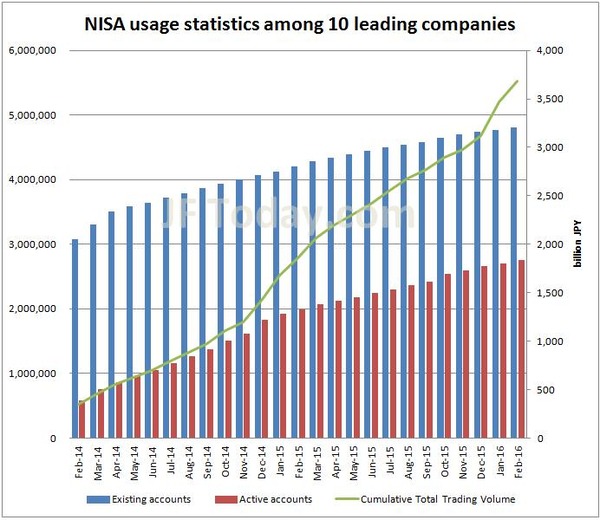 (Source: Japan Securities Dealers Association )
Related Articles: