The Financial Futures Association of Japan ( FFAJ ) published monthly OTC Forex trading volume in February, 2016. The total trading volume reported by 53 OTC Forex margin trading operators marked 593 trillion JPY, increased by 11.8% from the previous month, and surged by 30.35% from the same month last year. FFAJ attributed the increase to the situation where each currency pair of cross-Japanese yen was stronger Japanese yen.
On the other hand, the MoM increase of on-exchange forex trading at Tokyo Financial Exchange stood at only 2% with the total trading volume of 4.855 trillion JPY in February (The FFAJ converts the total number of contracts into the trading volume on the settlement prices of the end of the month) .
Looking at the most traded 10 currency pairs, USD/JPY increased its share from 67.10 in January to 73.38 % in February. The trading volume of USD/JPY grew by 22.6% Month-on-Month. GBP/USD saw the biggest increase with 34% while EUR/AUD experienced the biggest drop with -41.46% from the previous month.
The total open positions at the end of February were 5,416 billion JPY consisting of 1,448 billion of short positions and 3,967 billion JPY of long positions.
OTC FX trading volume in February (billion JPY)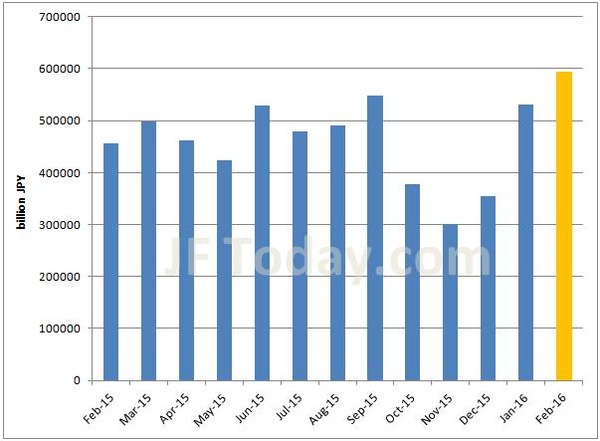 TOP 10 most traded currency pairs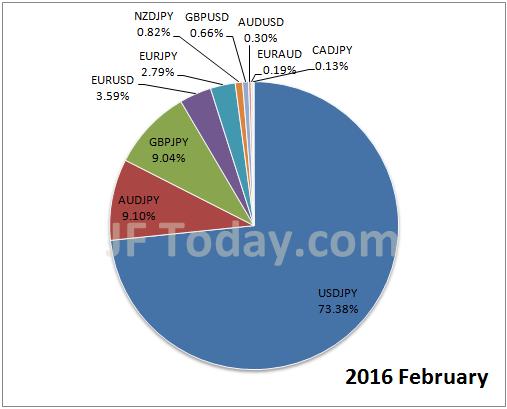 (Source: The Financial Futures Association of Japan )
Related Articles: