Monex Group reports monthly trading overview during November. Global FX volume was 22.6 billion USD, dropped 19.8% from the previous month. While compared with the same month last year, it had a major decrease of -59.2%. The global FX volume posts the 3rd consecutive month of decline.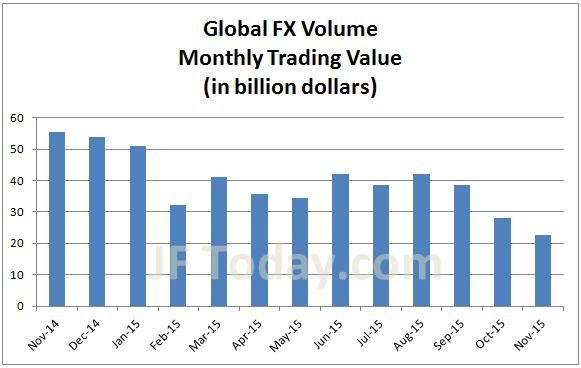 The group's Japanese subsidiary, Monex Inc. saw its OTC Forex average daily trade value of 108,017 million JPY in November with 19 business days which was 2-days fewer than October. This trading figure showed a drop of -10.5% from the previous month and was less than half (-61.5%) of the previous year. The number of active OTC FX accounts was 63,110 while the total number of OTC FX accounts was 219,007.
Regarding Stock Brokerage section at Monex Inc., the monthly trade value was at 1,206.2 billion JPY and stayed flat from October while it declined by -25.7% from November 2014.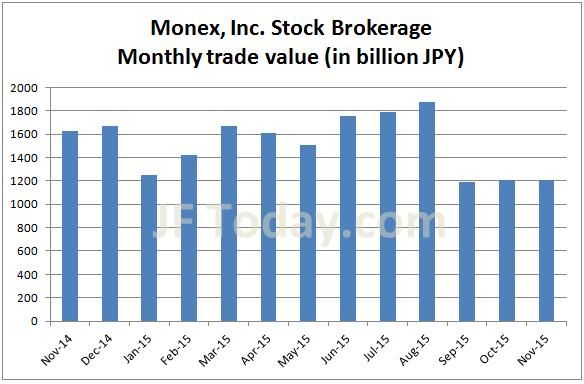 On the bright side, the Group's global DARTs and Monex Inc.'s DARTs increased from the previous month to 280,599 and 116,710 respectively. While TradeStation saw MoM decline in its DARTs, it remained at -3.8%.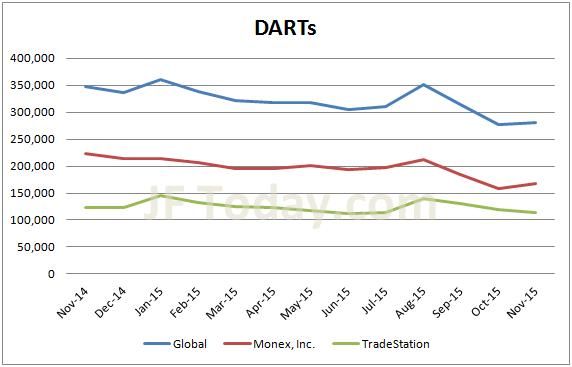 Its U.S. subsidiary, TradeStation Group marked 68,048 accounts with total client assets of 3,754 million USD at the end of the month.
(Source: Monex)
Related Articles: