The number of hires of a humanoid robot with artificial intelligence "Pepper" at financial institutions has been increasing. Due to the launch of Pepper Partner Program by its developer and provider, Softbank Robotics, this trend will be accelerated.
On December 10, Aomori Bank announced the bank hired 3 of Pepper for Biz (Pepper for corporate clients). Those peppers will start to work at its central branch from December 24, at Hirosaki Branch from January 6, 2016 and at Hachinohe Branch from January 7, 2016.
Aomori Bank is based in Aomori Prefecture, in the northern Tōhoku region of northern Japan, and has 102 branches and representative offices. Aomori Bank is the first financial institution to introduce Pepper in Aomori Prefecture. Those Peppers will welcome customers and explain the bank's products, services, campaigns.
The bank says in the press release that it will continue to work on offering higher quality services to meet customers' needs.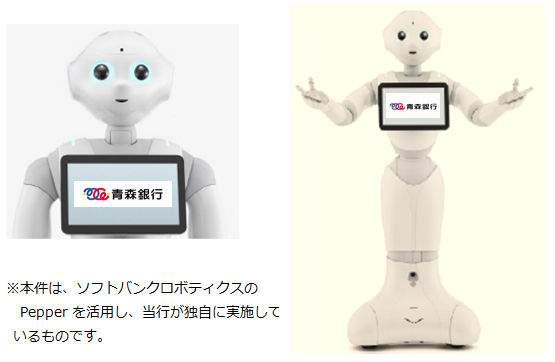 (Source: Aomori Bank)
Related Articles: