The Financial Futures Association of Japan (FFAJ) disclosed monthly statistics on OTC retail Forex margin trading in October. The total number of its registered OTC FX operators is 53 as of October 31, and they all submitted their figures to FFAJ.
In October, the total trading volume stopped to 377,383 billion JPY with a substantial decrease of 31.1% from the previous month and -25% from last year. As we reported at the beginning of this month, Tokyo Financial Exchange (TFX) also reported the decrease of trading volume of Click365 (Exchange Margin Forex contracts) during October, which decreased by 12.5% MOM to 3,262.7 billion JPY.
The total amount of customer deposit at the end of October was about 1,241 billion JPY which needs to be managed in separate account. The amount increased by 65.67 billion JPY from September.
Open Positions as of the end of month was 6,778.6 billion JPY consisting of short positions of 2,087.6 billion JPY and long positions of 4,691 billion JPY. The short positions increased by 412.8 billion JPY while long positions decreased by 410.7 billion JPY from the previous month.
The most traded currency pair was USDJPY with the trading volume of 234,869 billion JPY, which accounted for 62.2% of all trading volume. USDJPY and GBPJPY experienced considerable declines from September, -37.9% and -36.7% respectively. Among top 10 most traded currency pairs, only EURUSD and AUDUSD showed growth in trading volume, but increased very slightly with 0.6% and 8.5% respectively.
OTC FX trading volume in October (billion JPY)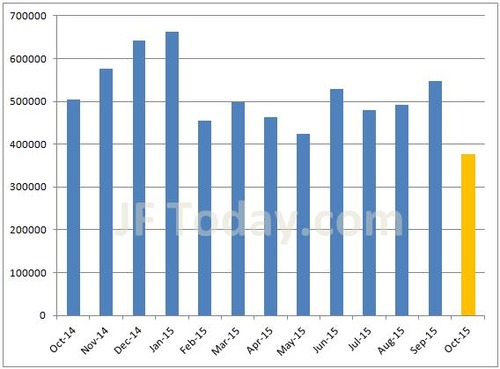 TOP 10 most traded currency pairs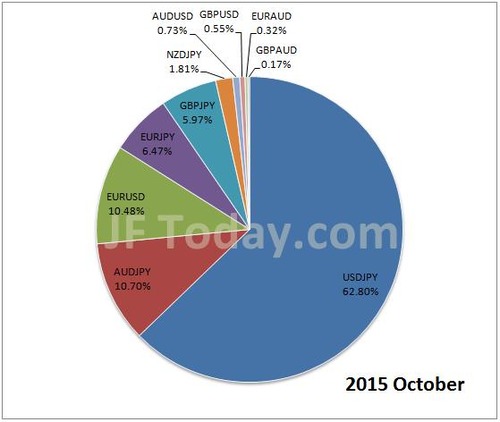 (Source: The Financial Futures Association of Japan (FFAJ))
Related Articles: