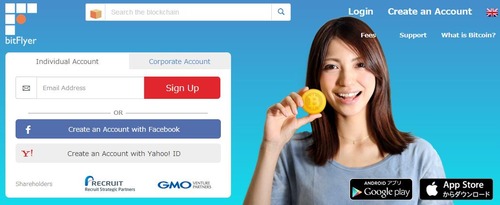 Japan-based, Bitcoin marketplace and settlement service provider,
bitFlyer Inc.
announced 3 developments to improve the convenience of its services. bitFlyer is a startup company as it was established on Jan 9, 2014. bitFlyer was recently selected by
Venture Scanner
as one of the leading bitcoin company while it is said that there are about 800 firms operating bitcoin-related business in the world.
Here are the new developments.
1: Japan's first bitcoin auto-transaction service "Quick Coin & Quick Cash"
When a user transfers money to a dedicated deposit account called "Quick Coin", the service will automatically buy bitcoin with the full amount of the user's deposit.
By using Quick Cash service, the full amount of bicoin that is deposited to Quick Cash (users' bitcoin address) will be automatically sold.
These new functions will make bitcoin transactions easier and simpler, especially benefiting users who think those transactions are bothersome.
2: Bitcoin Address Audit Tool
Bitcoin Address Audit Tool was added to their service "chainFlyer" which visualizes Blockchain. Users can see bitcoin balance by designating bitcoin address and date on the Audit tool.
3: Enable to create bitFlyer account with Yahoo ID
Users used to create bitFlyer account with email address or Facebook account. But now, the company accepts Yahoo! ID for creating an account. This will deliver greater convenience to users.
(Source: bitFlyer)