One of the bitcoin exchanges in Japan, coincheck has been actively expanding its services since its launch in November 2014. coincheck exchange was launched by ResuPress, inc which is a venture company established by 2 ex-JP Morgan Securities staff and a guy who won 2 hackathons while still in Tokyo Institute of Technology. The company also provides bitcoin settlement services.
In March 2015, coincheck exchange saw its monthly trading value reached 100 million JPY milestone, and now the monthly trading value grow to 160 million JPY. The company found that 80% of the total trading value was done by larger traders who account for 5% of all and have deposited over 1 million JPY (tens of millions JPY at a maximum) in their trading accounts.
The latest development for coincheck has just been unveiled today. The company launched "coincheck tradeview" for those larger bitcoin traders. UI of coincheck tradeview allow larger traders to trade with enhanced convenience and user-friendliness. By creating its UI looks like Forex service, the company also aims to attract FX traders who are not familiar with bitcoin trading.
What is coincheck tradeview?
It's a comprehensive platform containing all functions that biotin traders need. The key features are;
Graphically showing all information including orders, margin trading, charts, order book in one screen.
Chart has a variety of timeframe: 15min, 1h, 4h, 1day
Market order was introduced. (only entry order used to be available)
Who can use coincheck tradeview?
coincheck account holders who meet any of the following conditions can use the service.
Deposit totally more than 250,000 JPY into the account.
Deposit totally more than 20BTC into the account.
Trade total amount worth 250,000 JPY
According to the press release, the company will add more functions such as technical analysis and offering information of transaction at overseas bitcoin exchanges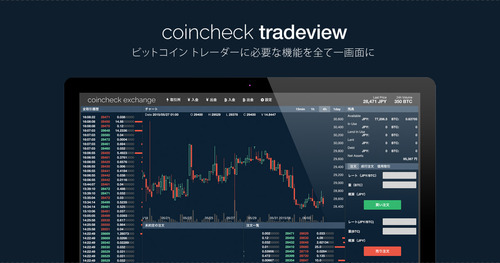 (Source: coincheck)