GMO CLICK Securities is one of the leading forex brokers in Japan. GMO CLICK's products includes forex(OTC and exchange trade),CFD, binary option trading, stocks, and futures. The broker today announced that the number of its OTC FX accounts surpassed 400,000 in May, reaching 401,965. The figure shows an increase of 17.76% (60,634 accounts) from the same month last year.
The broker's OTC FX service is named FXneo. Since FXneo was launched in October 2006, with the concept of lower cost and more user-friendliness, they have offered lowest level of spread and a variety of trading tools such as an advanced platform "Hatchukun FX", "iClickFXneo", "Fxroid", "FXWatch!". The company believes its efforts to have developed these sophisticated services attract more clients as they meet their demands.
According to the broker's disclosed information, its OTC FX trading volume in May reached 98.45 trillion JPY, decreasing 11.7% from the previous month.
Speaking of GMO Click Securities' rivals, DMM.com Securities reported the number of its trading accounts was 442,801 as of March while Gaitame.com reported its April's figure as 392,026.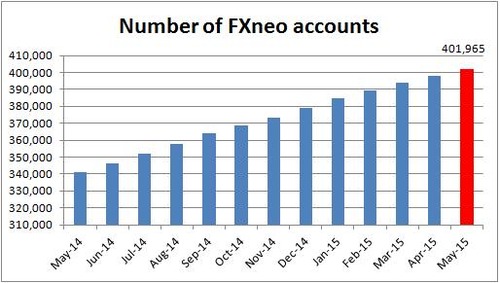 (Source: GMO CLICK Securities)